2017/6/19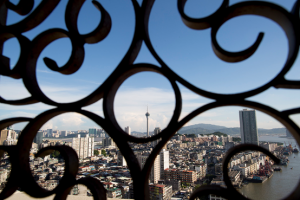 During the first quarter of 2017, the city saw a 10.3 per cent increase in its GDP (Gross Domestic Product) when compared to the same quarter a year ago, according to the latest data released by the Statistics and Census Service (DSEC).
The significant increase, opines economist Alberto Martins, was attributable to the relatively lower base of comparison in the same quarter during 2016.
Another major contribution to GDP growth for the first three months was improving exports services and investment.
In terms of exports of services, the value for the first quarter increased by 13.4 per cent year-on-year, with exports of gaming services and other tourism services jumping 11.3 per cent and 20.9 per cent, respectively.
The increase in exports of gaming services, points out the economist, is also a major factor leading to the increase in GDP.
The DSEC data also shows that exports of goods increased by 9.7 per cent, year-on-year.
The city also saw improvements in investment, with gross fixed capital formation, a gauge of investment, growing 4.6 per cent year-on-year, 2 per cent higher than in the last quarter.
Mr. Martins points out that the increase in the gross fixed capital formation should be confined to the short-term, estimating that the growth will not continue to the next quarter.
"I don't believe this growth will continue in the next quarter because casinos are almost finishing […] I don't believe the values will be the same as last year," said the economist, while also adding that the positive growth in gross fixed capital formation might turn around by the end of this year.
He points out that capital formation from construction, as well as equipment, was heavily weighted to the private sector, recording a total of MOP12.81 billion (US$1.60 billion) invested in construction and MOP1.71 billion in facilities.
In contrast, the government invested some MOP1.25 billion for construction and MOP40 million for equipment.
"The two major investments are from the private sector (construction and equipment) because the government is almost irrelevant [when comparing the amount of capital formation between the two sectors]," remarked Mr. Martins, although noting that the government's investment in public construction and equipment skyrocketed by 73.9 per cent and 132.6 per cent, respectively, year-on-year.
During the quarter, the implicit deflator of GDP, which measures the overall changes in prices, experienced a slight increase of 0.5 per cent year-on-year.
Copyright@Macau Business